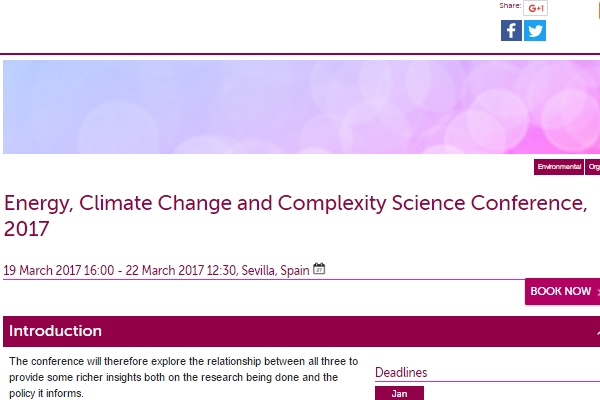 Introduction
The conference will therefore explore the relationship between all three to provide some richer insights both on the research being done and the policy it informs.
Since the topic is very broad, we will focus on impact and we will ask our speakers to address the following question, based on their own work: "What will it (society, cities, environment, way of living, etc.) look like in 100 years? What decisions would you, as a scientist or policy maker, make now knowing that they would impact the 4th generation and beyond?"
Speakers and participants will be drawn from academia, government, industry and the arts; and presentations will cover the range from well established to state of the art research as well as informed policy to address the challenges of climate change.
The conference will be held in beautiful Seville, in Andalucía, in the spring of 2017 and apart from the intellectual stimulation provided by the conference; participants will be able to explore its rich culture, with three UNESCO World Heritage Sites: The Alcázar, the Cathedral, and the Archivo General de Indias (General Archive of the Indies); as well as wonderful museums, art galleries, flamenco dancing and delicious food!
More information http://www.rsc.org/events/detail/25194/energy-climate-change-and-complexity-science-conference-2017