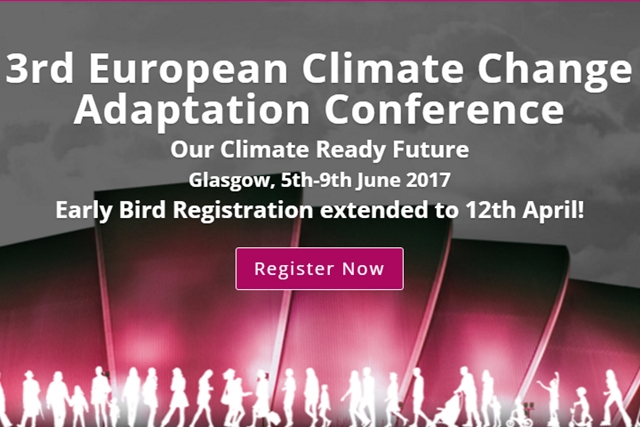 Early Bird Registration extended to 12th April!
OUR CLIMATE READY FUTURE
The theme of ECCA 2017 is 'Our Climate Ready Future'. Our vision is that this conference will inspire and enable people to work together to discover and deliver positive climate adaptation solutions that can strengthen society, revitalise local economies and enhance the environment. We are bringing together the people who will deliver action on the ground – from business, industry, NGOs, local government and communities – to share knowledge, ideas and experience with leading researchers and policymakers. Set in the cultural city of Glasgow, at the heart of a city-region that is putting climate adaptation and climate justice at the core of decision making, ECCA 2017 offers ten inspiring excursions including opportunities to visit innovative local adaptation projects and share experience of how climate adaptation can work in practice.
We are delighted to announce that ECCA 2017 will be opened by Roseanna Cunningham, MSP Cabinet Secretary for Environment, Climate Change and Land Reform.
ECCA 2017 is held in Europe but the focus is global, with presenters from 48 countries on five continents. Our packed programme features three plenary sessions, 85 parallel sessions, a poster drinks reception, a Ceilidh and a film screening. This year, for the first time, there is a special Business and Innovation programme to be run in parallel with the first two days of the conference.
WELCOME FROM GLASGOW CITY COUNCIL
"I am delighted that the ECCA conference is coming to Glasgow and I look forward to welcoming delegates to this great city in June 2017. As a city leader I know that our local action to adapt to the impacts of global climate change is one of the outstanding challenges of our age. It is one which I am determined Glasgow will meet. We can learn much from our peers across Europe through ECCA and I hope too that others will be able to take lessons from our own experience. When you come to Glasgow you will be visiting a city which aims to be one of the most sustainable in Europe over the next twenty years. You'll also be able to enjoy a fantastic selection of bars, restaurants and cultural venues in my city – so I hope that you enjoy these just as much as your conference!"
Cllr Frank McAveety,
Leader of Glasgow City Council,
Chair of Glasgow City Marketing Bureau
and Chair of Sustainable Glasgow.
ECCA 2017 will be organised by 3 EU-funded projects: