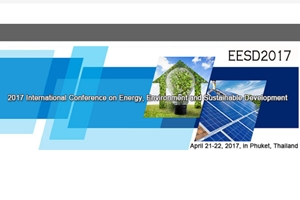 2017 International Conference on Energy, Environment and Sustainable Development (EESD2017), which will be held on April 21-22, 2017, in Phuket, Thailand.
EESD2017, which has gathered professors, researchers, scholars and industrial pioneers from all over the world, aims to be a leading international conference for presenting novel and fundamental advancements in the fields of energy, environment and sustainable development. The conference welcomes contributions from all scientists and we believe that your participation will promote the exchange of ideas between educators and researchers from the world.
EESD2017 features invited keynotes as well as peer-reviewed paper presentations (oral and poster). The conference is completely open (one needs to register first), you will not have to be an author or a discussant to attend. Submissions will be peer reviewed and evaluated based on originality, relevance to conference, contributions, and presentation.

Publication
All accepted papers will be published in the conference proceedings of EESD2017. The proceedings will be published by the DEStech Publications. The press will submit all the papers to be indexed in EI Compendex, Thomson Reuters Web of Science CPCI-S (ISTP indexing) and CNKI Scholar.
Excellent papers will be selected and published on SCI and EI journals.
DEStech Publications Proceedings indexed by EI Compendex and CPCI-S(ISTP) as below: